Yakima - Track Rack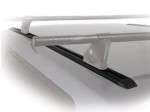 Yakima -Track Rack Truck Cap Rack


Mounts to the roof top of your "Lakeland" fiberglass truck cap.
A heavy-duty black anodized corrosion resistant aluminum track provides the base for a easy adjustable roof rack.

*Optional SKS Key Locks Highly Recommended SKS stands for "Same Key System."
These types of cores enable you to lock all your Yakima products with just one key.