Putco - SST Bed Rail Cap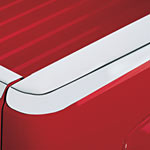 You've probably bought or at least thought about a bed liner for protecting your truck bed from scratches, gouges and rusting. Extend that same protection concept to your vulnerable bed rails that take a beating, by covering them with Putco Skins Bed Caps—a sturdy metal guard that's custom made for your truck.

Not only do they protect, but Putco Skins Bed Caps look great. The smooth 17-gauge stainless steel wraps 1˝" over the rail, and is available with or without stake pocket holes.